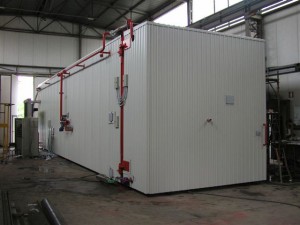 AirVac 40 was designed to dry a full trailer load in one batch using one large vacuum chamber.
Specifications
Dimensions of each bundle:
5x5x20 ft. / 1,524×1,524×6,069 mm.
Necessary heating fluid:
Steam
Wood Conditioning System:
Water
Type of Electric Power:
480V 3 Phase / 575V 3 Phase
Max. break-away wattage:
65 kw.
Max. break-away thermal power:
2,000,000 BTU/hr. / 500,000 Kcal/h
Empty Weight (total):
132,227 lbs. / 60,000 kg.
Wood loading technique: Track/Trolley
Inside Dimensions of each chamber:
Width: 10 ft. / 3,000 mm.
Length: 60 ft. / 18,400 mm.
Height: 11 ft. / 4,000 mm.
Net capacity: 40,000 BF / 100m3
# of Bundles: 6
Advantages
Vacuum increases the rate of water circulation from wood core to shell
Water evaporates at a lower temperature under vacuum
Mold or fungus cannot grow under vacuum and darkening due to oxidization is not possible.
Increased drying rate up to 12 times conventional kilns
No building required